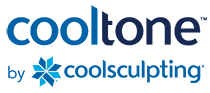 CoolTone™  Hello Muscle Tone 
CoolTone is Allergan's latest innovation in body contouring. The CoolTone™ device is FDA-cleared for improvement of abdominal tone, strengthening of the abdominal muscles, and development for firmer abdomen. CoolTone™ is also FDA-cleared for strengthening, toning, and firming of buttocks and thighs.
How it works
CoolTone is a noninvasive body contouring treatment that uses Magnetic Muscle Stimulation (MMS) technology to strengthen, tone, and firm the muscles of the abdomen, buttocks, and thighs.
1.) CoolTone's Magnetic Muscle Stimulation, or MMS technology, penetrates through the skin and fat layers to target only the muscle layer, inducing involuntary muscle contractions.
2.) The body's response to these contractions is to strengthen its muscle fibers, resulting in improved muscle conditioning.
3.) After treatments, abdomen, buttocks, and thighs are firmer and have a more defined and toned appearance.
The state-of-the-art system features liquid-cooled applicators. And as part of Allergan's trusted portfolio of products, you will be eligible to earn Brilliant Distinctions® rewards on this procedure.
How does CoolTone Differ from CoolSculpting?
CoolTone does not freeze fat. It uses a 1.8 Tesla magnet to stimulate involuntary muscle contraction, which results in a tighter and more toned appearance. Both procedures still allows patients to target stubborn areas with little to no downtime and both are FDA approved. CoolTone is recommended to help build and strengthen muscle tone for patients who already maintain a healthy lifestyle. CoolSculpting is a procedure that targets fat cells to freeze and is recommended for normal to overweight patients who have stubborn areas of fat that are difficult to eliminate with regular exercise.
Are there any side effects?
Side effects may include, but are not limited to, muscular pain, temporary muscle spasm, temporary joint or tendon pain, and redness at or near the treatment site. Women who are close to menstruation may find that it comes sooner, or cramping is increased or intensified with CoolTone™ treatments, therefore, it is recommended to not undergo treatment during this time of the month.