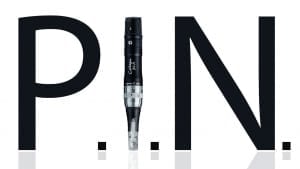 Collagen P.I.N.™ to Reduce Fine Lines, Wrinkles and Acne Scars
Collagen P.I.N.™ is the most advanced medical-grade automated micro-needling device on the market. Also referred to as Automated Micro-Needling (known as Percutaneous Collagen Induction Therapy or PCIT) is a new innovation in aesthetic medicine for the treatment of fine lines, acne scars and improvement of the skin's appearance. During this procedure, tiny needles are used to create controlled micro-injuries to the skin in order to produce collagen and elastin. The skin's repair process results in a thicker dermis with the appearance of softer wrinkles
How is P.I.N.™ Different from Other Dermal Needling Procedures?
P.I.N. is a method of introducing a controlled wound into the skin triggering a release of natural growth factors, new collagen & elastin. This process causes much less damage to the epidermis than dermal rolling or lasers and other ablative treatments, which helps to protect the new skin cell growth providing for quicker healing, higher success rates and longer lasting results. Automated micro-needling also creates superficial micro-channels, which allow topical serums and creams to be absorbed more effectively into the skin.
How does the Collagen P.I.N.™ Differ from Lasers?
Collagen P.I.N. ™ breaks up pigment mechanically and remodels the collagen without heat or the light. When the heat is removed from the process, it makes for a much safer, more comfortable and more consistent treatment. No heat also equals less downtime! Most Collagen P.I.N. ™ patients have a healthy pink glow immediately after the procedure, which lessens dramatically within 24 hours or less. Most patients are back to work the same day and out to dinner the same evening and experience little to no downtime.
How does the Collagen P.I.N.™ work?
A sterile needle-tip containing 12 to 36(optional) tiny micro-needles is attached to the Collagen P.I.N. ™. A thin layer of topical serum will be applied to your skin and the appropriate treatment depth based on your unique needs will be selected. Next, in a single motion, the Collagen P.I.N. will be gently glided across the skin in one direction until the entire treatment area has been covered. This results in thousands of microscopic channels throughout the entire treatment area.
The Collagen P.I.N. provides "flawless" results on the following:
Face
Neck
Decolletage
Hands
Arms
Legs
Abdomen
Back
Scars
Stretch Marks & much more