SERUCELL
Testimonies
"I'M OBSESSED"

"I am obsessed with it. Aside from generally (noticeably) making my skin glow, the age feathering around my mouth is reduced as to be barely visible, and a reduction in crows feet and sagging. I was considering thermage (which is REALLY pricey) and I'm holding off, though I'm excited for my derm to see my skin.  It's just overall tighter and brighter. This stuff WORKS, and I'm telling EVERYONE. I've used so many things, esp. in my industry, and rarely find anything that's 'special'. This is special."

Amy P. (Hollywood, CA)

"SMOOTHER, FIRMER, BRIGHTER"

I've been using Serucell for 6 weeks and it is already making a difference in my skin. My skin looks smoother, firmer and brighter. My discoloration has greatly diminished and there is a new glow to my complexion.

Loreen M. (Redwood City, CA)
"I'VE NEVER SEEN RESULTS LIKE THIS"

"I have been using Serucell for roughly three weeks and absolutely love the product.  I'm in my fifties and have used many skin care products in the past but have never seen results like this. My skin has never looked better.  I can see the difference in the texture and firmness. You won't be disappointed by the results after using this product."

Nathalie D. (Atherton, CA)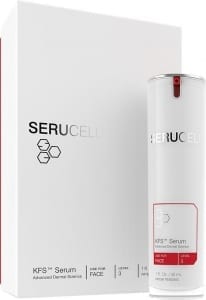 WHAT MAKES SERUCELL KFS TECHNOLOGY DIFFERENT AND HOW IT WORKS
The rebirth of skin begins with Serucell. KFS® is the world's only patented dual cell serum, infused with over 1500 natural proteins including super proteins, collagens and peptides, to support optimal skin rejuvenation from within.
A comprehensive set of balanced skin essential proteins contained in the KFS Serum help boost the skin's natural ability to; support new healthy elastin and collagen for firmer looking skin, reduce the appearance of fine lines and wrinkles, improve tone and texture and experience softer, smoother more hydrated skin.
WHAT IS KFS®?
KFS® is a unique moisturizing complex with natural proteins that have the signaling power to help re-boot the conversation for younger firmer looking skin.
The proteins are naturally derived and small enough to be absorbed into the lower layer of the skin, providing optimal hydration and supporting the rebuilding of collagen, elastin and the rejuvenation of the rete ridge.
Replenishing the skin from within, while reducing the visible signs of aging.
In many ways, communication is the active ingredient inside KFS® serum. Once your skin cells are hydrated and remember how to send the right signals to each other, the natural process of interaction and rebuilding begins. Micro-chemistry takes over. The bond between skin layers grows stronger. And much like long-lost friends who have reconnected and start communicating again…the results are visible to all.
KFS serum uses two cell lines to produce the vital compounds found in youthful skin. It's the combination of Keratinocyte and Fibroblast cells that give KFS its name.